Why collaborate?
Collaborative working or partnership working – includes a whole spectrum of ways that two or more individuals or organisations can work together. It can cover informal networks and alliances, joint delivery of projects or full merger.
Collaborative working starts by creating a classroom at DigiSender Live in order that students or participants can join in, learn & discover.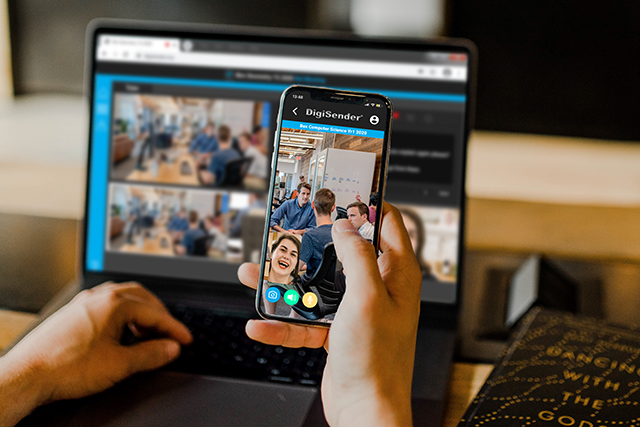 Why use live video?
Collaborative working between two or more individuals has been growing exponentially in recent months. With the advent of increased home-working we've seen dramatic changes in peoples working habits. That's why DigiSender Live forms an important part of collaborative working:
A significant increase in learning from home
A growing demand from users for greater features and functions within the platform
More ways to share documents, screenshare and more
A far more efficient use of resources
Types of collaborative working
Structures for collaborative working where Live video may be required includes:
Create continuity between Schools to Students who are working from home
Create discussion groups for trainers with attendees joining from around the world
Separate organisations maintain their independence, but work jointly on some activities or functions
Organisations with resources or expertise offer assistance to other organisations
Organisation working with a small local group
A new way to create joint work & partnerships
A group structure where a 'parent' organisation governs a group of 'subsidiary' organisations
To merge ideas to form new activities or functions
Collaborative working can be used to:
Distance learning for schools and collages
Carry out charitable activities, e.g. service delivery, campaigning, policy work
Share premises or support functions, e.g. payroll, purchasing, fundraising
Improve strategic efficiency
DigiSender Live provides the ability for Collaborators to start for free.
As a tutor you create your own video classroom by choosing a name that helps to identify you and your class! You open the classroom by simply adding your existing webcam. Your students will access the class with an invite link. Simply share the classroom name and access PIN with your students!
For more information on Tutor rolls within DigiSender Live see here: https://digisender.live/tutor/